Ordering Information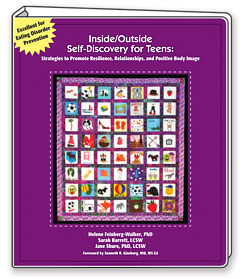 Inside/Outside Self-Discovery for Teens
Strategies to Promote Resilience, Relationships, and Positive Body Image
$59.95

How to purchase
To place your secure order online, select the Add to Shopping Cart button, to order by phone, call (888) 386-8226, e-mail us at , or visit our Order Information page for additional information.
You can also download the order form, fill it out and fax it to (831) 462-1129.
Call (888) 386-8226 for bulk order pricing.
Inside/Outside Self-Discovery for Teens:
Strategies to Promote Resilience, Relationships, and Positive Body Image
"This is a well-thought-out set of lessons grounded in a variety of developmental theories. It presents material and offers opportunities to girls in ways that are creative, flexible, respectful, and sensitive to the complexities of their dynamic internal lives and complex networks of relationships with family, friends, and peers."
Michael P. Levine, Ph.D., FAED
Professor of Psychology, Kenyon College
"This book is a must for anyone involved in helping kids and teens develop the inner skills needed for taking on life's challenges. Self-confidence doesn't just happen. It needs to be nurtured and taught. This curriculum does just that."
Kerri Walsh
Two-time Olympic Gold Medalist
The teen years are a critical time for prevention efforts aimed at strengthening self-esteem and resilience, so that young adolescents can resist the pull of drugs, alcohol, sex, and body image obsessions.
This dynamic curriculum was designed to help young teens develop the skills required to successfully navigate the challenging terrain of early adolescence. Through a series of activity-based lessons, teens learn skills that enhance self-awareness, empathy, coping mechanisms, communication tools, strategies for constructive self-talk, methods for managing stress and tension, recognition of the forces that drive social comparison and cause insecurities, and media literacy (especially messages in the media pertaining to body image and dissatisfaction with oneself).
Inside/Outside Self-Discovery for Teens promotes emotional health and resilience by helping young teens to:
increase internal resources that fortify healthy development
build communication and conflict resolution skills for managing the ups and downs of peer relationships
foster the ability to resist cultural pressures to be perfect
develop supportive inner talk to counter self-criticism
Preliminary evaluative research suggests that participation in this program enhances the coping skills needed for resilience and self-confidence. Inside/Outside Self-Discovery for Teens is ideal for anyone working to empower teens.