Rite in the Rain
All-weather Writing Paper
Read and Write Important Messages In Any Emergency
As a CERT team member, you need to have valuable information at your fingertips. You also need to be able to make new notes on the fly as you work through your neighborhood emergency. That's why you'll appreciate the convenience and reliability of Rite in the Rain's durable, patented writing products. ToucanEd brings you five products from Rite in the Rain. Each printed product is made of patented, all-weather writing paper that is designed to shed water, no matter what the weather.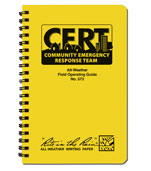 CERT All-Weather Field Operating Guide
The Field Operating Guide is a must-have for any well-prepared CERT member. It has all the reference information you need to be prepared for any emergency response. It was developed in conjunction with CERT volunteers and trainers across the nation and is based directly on information from FEMA.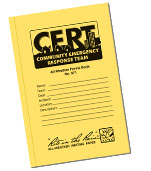 CERT All-Weather Forms Book
The CERT All-Weather Forms Book is an excellent tool to have on hand in any emergency response situation. This 48-page, 4 5/8" x 7" book contains multiple copies of each of the standard CERT forms. Each page is perforated so it can be easily removed and turned over to your Incident Commander or professional response personnel. This handy book will protect your critical data in any weather.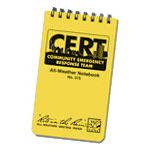 All-Weather Pocket Notebook
Stuck in an emergency with nothing to write on? Then this convenient 3" x 5" notebook is perfect for you. Constructed with Rite in the Rain all-weather paper, this handy 100-page notebook is compact enough to fit in your shirt pocket and durable enough to with stand even the harshest conditions.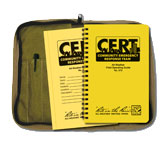 CERT All-Weather Kit
This kit combines the Field Operating Guide, the Forms Book, an All-Weather Pen, and a pencil. The zippered cover is made of durable Cordura. It is the ideal take-anywhere set for every CERT member to have on hand at all times. This kit allows you to have all the tools you need right at your fingertips and is durable enough to throw into your CERT bag along with all of your other gear.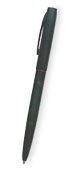 All-Weather Tactical Black Clicker Pen-Black Ink
While a pencil works great on our all-weather products, sometimes you just need a pen. These all-weather pens write on wet paper and upside down in temperatures from -30°F to 250°F.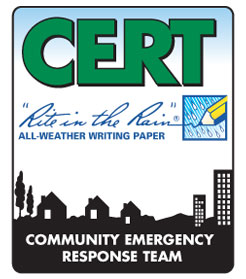 Rite in the Rain
To place your order by phone, call (888) 386-8226, e-mail , or visit our Order Information page for additional information.
You can also download the order form, fill it out and fax it to (831) 462-1129.

Pricing:
CERT All-Weather
Field Operating Guide - $11.50
CERT All-Weather Forms Book - $4.50
All-Weather Pocket Notebook - $3.95
CERT All-Weather Kit - $43.02
All-Weather Tactical Black Clicker Pen-Black Ink - $8.95
Also available:
Increase community awareness with CERT pamphlets, CERT Start Kit and the CERT Training Materials.