ToucanEd Staff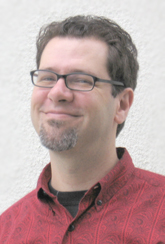 Jack Suter: Webmaster, Graphic Artist, Illustrator
Jack Suter combines his considerable artistic talent and extensive technical expertise to create illustrations, product designs, CDs and Websites for ToucanEd and its clients. He creates stunning original artwork and builds dynamic, visually stimulating materials that are intuitive, informative, and user-friendly.
Jack holds a BA in Visual Communications from the Colorado Institute of Art, and brings 10 years of professional experience and many more years of personal experience in graphics and design to ToucanEd. His beautiful illustration work appears throughout the ToucanEd catalogue, running the gamut from a cast of comic book-style superheroes for the Ammonia Safety and Training Institute to playful, engaging cartoons for the Health Education Assessment Project (HEAP) to detailed and thought-provoking character portraits for Fairfax County's Healthy Choices curriculum. You can see the depth and versatility of his design talent on such products as the Pandemic Flu Preparedness series, the Healthy Choices curricula, and the IMPACT! User Guide, to name just a few.
When he's not attending classes to augment his formidable design skills or creating one-of-a-kind birthday cards for ToucanEd staffers, Jack is playing his banjo, or his guitar, or maybe even his fiddle.
You can contact Jack at or call toll-free (888) 386-8226 ext. 15, or (831) 464-0508 ext. 15.